Colorado Winter Sports Film Festival
Logo • Poster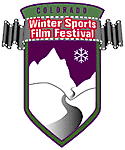 The Colorado Winter Sports Film Festival wanted a logo and poster that recalled the classic look of vintage ski styles.

Rewind and Review
Initial study involved reviewing skiing-related films, photos, posters, collector's pins, patches and pennants. While particular attention was paid to items from Colorado, we examined skiing memorabilia from around the world.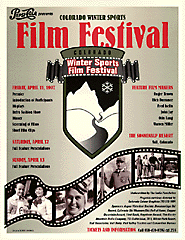 Using the Old to Create Anew
During our research, we noticed that many ski patches had interesting shield-like shapes, with a retro yet strong graphic look. We decided to use this basic shape, adding a top banner resembling a strip of film with rolled edges. The color scheme was developed from the muted-color palettes commonly found in ski posters from the early 1930s. Type is outlined in red to resemble the embroidery of early ski patches.

The two-colored poster at right included the new logo. The film frames below the logo featured archival photos of Colorado skiers.