Rocky Mountain PBS Online
Quarter-page ads for "PROMO" Magazine

Rocky Mountain PBS promoted its website in a quarter page ad each month in PROMO, the TV network's printed program guide.

Surveys Yield Surprising Results
PROMO consisted of broadcast schedules, program features, station news and ads. Surveys indicated that much of this content was not being read, however, and that readers scanned PROMO looking for broadcast times and interesting photos. People only read longer articles if they were of direct interest to them.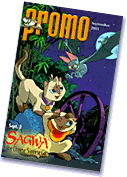 Cultivating Awareness
The goal of the quarter-page ad was to build reader awareness of the wide range of Rocky Mountain PBS online subsites and inspire people to visit them. These niche markets, developed around special interests of viewers, included membership club websites such as the British Comedy Club, the Kids' Club and the Cooks! Club.

Visually Building a Brand
Based on survey results and the small ad size, 2 x 3 inches, we chose to use images to build website branding. Each ad featured the Rocky Mountain PBS Online logo, an interesting photo or illustration, the subsite title and corresponding URL. Whenever possible, we selected content for the ads that corresponded with featured articles about TV programs in that issue of the magazine. Ads were also used to promote online contests, encouraging readers to visit the website for competition details.